Don't DIY It – Professional Services Coupons
There's a lot of talk out there now days about do-it-yourself (DIY) projects. In fact, there are even television shows dedicated to showing you how to do projects on your own. You can discover how to make repairs in the home, sew a new dress or even decorate entire rooms at a time. While it's great to have some skills and get to know how to do basic things on your own, why waste the time — and most of the time — the money, doing things that other people can do for you. With professional service coupons, you can get all those projects done around the house, without the hassle of trying to figure them out on your own.
Why Hire Professionals
Many people embark on a do-it-yourself project hoping to save time and money. In reality, doing it yourself probably ended up costing you big time — in both time and money. For example, think about shampooing your own carpet. You probably decided to try this one yourself because it costs on average $200 to hire a professional. You bought supplies, you rented a machine and you even moved all the furniture out of the front room. Once you finally got the machine up and running (which can often take much longer than anticipated) you started shampooing your carpets. And then again. And again. Chances are you went over the same spots on your carpet multiple times to try to get it clean. And now? Your carpet doesn't look any better.
With a carpet cleaning service, you could have saved the time and expense of doing it yourself — and your carpets would look great. You don't have to worry about doing all the work or having the right equipment because you've hired someone to take care of those details for you.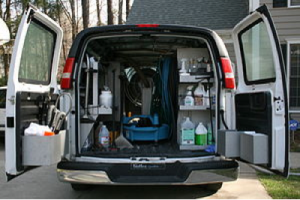 A look inside a van equipped for professional carpet cleaning, parked at a residence in Woodcroft, Durham, North Carolina. (Photo credit: Wikipedia)
What Kind of Service Coupons are Available
There are many kinds of service coupons available out there. If there's a service you need done, chances are you can find a coupon.
Find coupons for:
Carpet cleaning
Pet walking
Lawn care
Home cleaning
Car detailing
And many more
Where to Find Coupons
Now that you know there are service coupons out there, you may be wondering where you can get some coupons. There are many places, some even free, that offer valuable service coupons.
One really great place to look for service coupons is on reward websites. Sites like RewardIt will reward consumers to use their site in the form of Reward$, which can then be redeemed for things you need – like service coupons.
Other places to look may include:
The Sunday newspaper
Company email lists
Other "deals" websites
When it comes to getting services taken care of for you, be sure to take advantage of service coupons.