Dental Care At Home, Saving With Health Care Coupons
A visit to the dentist can be expensive, so continue to read to learn how to save with health care coupons. Sometimes all it takes is just one trip to the dreaded chair to blow through your savings. There's no doubt about it — if you don't take care of your teeth, every trip to the dentist is going to cost a significant amount of money.
That's why it's important to take care of your teeth at home. Before you ever step into the dentist's office, you can know that you've done everything you can to take care of your teeth and help to keep the costs of dental care down.
So what can you do at home to have healthy teeth?
Brush at least twice a day. Brushing your teeth is the biggest thing you can do to help keep cavities and gum disease at bay. Brush in the morning and at bedtime, at a minimum, to help prevent most major problems.
Floss. Many people miss this step, but it's important to floss every day as well. Food participles get stuck in between our teeth and sometimes the toothbrush can't get in those areas. If left there, the food will start to decay our teeth. Flossing will help get those tiny particles out that we can't get when we brush.
Avoid sugar. This doesn't sound very fun, but it's important to avoid — or at least limit — sugar intake. Sugar and sugary drinks can decay our teeth really fast. Even if left on our teeth for just a few minutes, the decay can begin. It's best to just avoid the sugary substances.
Chew gum. Chewing sugarless gum creates saliva in our mouth, which not only helps keep our mouth's moist, but it can also help with tooth decay. Chew a piece of gum after a meal and it can have a similar effect as brushing. Of course, brushing is best, but chewing gum is great when you're on the go.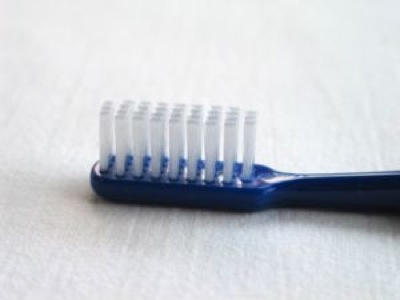 Toothbrush, photo taken in Sweden (Photo credit: Wikipedia)
You now know what you can do to keep the dental costs down, but what about keeping the costs down for purchasing all of these items? The best thing you can do to save on oral hygiene items is to look for coupons.
Go online and use websites like Krazy Coupon Lady. You can redeem for coupons and gift cards, which can help pay for your dental needs.
Check the papers. You can check your local newspaper for coupons. Every week (usually on Sunday) you can find coupons for items that will be on sale that week.
Buy in bulk. Sometimes, you can buy items like toothpaste and floss in bulk. If you have a family, this is a great way to keep items in stock, without spending a lot of money.
Take care of those teeth! After all, you only have one smile.