Coupons.com Free iPad A Day Giveaway
One of our favorite coupon websites is currently hosting an amazing giveaway for a free iPad a day. This giveaway starts August 3rd, 2012 and will run until August 9th, 2012. One new iPad will be given away each day. You can be one of seven lucky winners! There is a limit is one entry per person per day, so make sure to enter daily before looking and print your favorite coupons. Also be sure to use your real email addresses because winners will be notified through their email.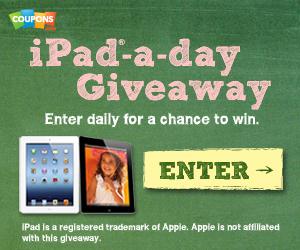 Don't forget to download the Coupons.com App for your Apple iPad, iPod Touch and iPhone. You will be able to find the best coupons on the go for those spur of the moment purchases. Nothing is more frustrating than paying full price for items when you don't have to. Coupon experts are always prepared to save money! Easily find valuable coupons to save on your groceries, personal care items and household goods.
If you are unfamiliar with Coupons.com, it is one of the top coupon websites around. They are very versatile offering both printable coupons and coupon codes for online shopping, as well as local restaurant coupon deals. After being founded in 1998 Coupons.com has helped bring the tradition coupon clipping from Sunday newspapers to online. If you are wondering if Coupons.com is legitimate, look no further they are very legitimate and always real. They even have deals for coupons with prestigious companies and brands including: Clorox, General Mills, Johnson & Johnson, Kellogg's, Kimberly-Clark, Kraft Foods,A&P, CVS, Duane Reade, H-E-B, Kmart, Kroger, Safeway, ShopRite and Walgreens.