Famous Footwear Coupons From Official Coupon Review!
You know that trip to the mall you've been meaning to take to the mall for a new pair of shoes, but kept putting off because you just didn't have the money. Well guess what it's back on and Official Coupon Review is helping you save with great Famous Footwear coupons! Click on the image below to claim your Famous Footwear coupons now! These coupons are for either 15 or 20% off your next purchase at Famous Footwear and can be combine with their current buy one get one half off promotion! Now that sounds like a great savings to us, enjoy!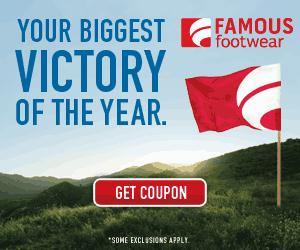 Famous Footwear was founded in 1960, they currently operate over 1,000 stores in the United States. They are known for their low prices and great customer service. Famous Footwear actually prices their brand name shoes under the manufacturer's suggest retail price. Not only can you find great Famous Footwear coupons online, but you can sign up to receive them through email or text message! After printing out this great Famous Footwear coupon from Official Coupon Review head over to their website to sign up for Famous Footwear emails and you will receive another coupon for $5 off your next purchase. Now you're truly saving on that new pair of shoes!