Alert: Discover Magazine Fans! Huge Savings Now
With Christmas only a few days away, many people will be looking for last minute gifts. Discover Magazine subscriptions make great gifts for any science minded fan of any age. With Discover Magazine you discover (like what I did there?) the most up to date news on the world of technology and science. Every issue brings interesting news, articles and an update on the current events of technology, space, environment, health and more.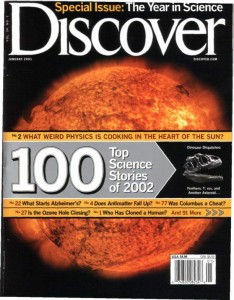 With the cover price for an entire year being $59.88 and the Amazon sales price being $14.97, one might think that this is too expensive for only 10 issues (12-month subscription). Don't worry though with a great coupon code from the women over at The Krazy Coupon Lady. Using the coupon code KRAZY can get you a subscription for only $4.99 a year! You can even subscribe for up to 2 years.
Also with the coupon code KRAZY from the Krazy Coupon Lady you can always receive a 20% discount on magazines from DiscountMags.